Transporting your Christmas Tree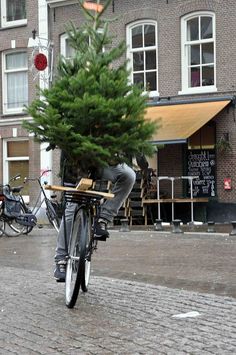 We get lots of questions from people who have never visited a Christmas Tree farm about how to transport your tree home. So, we thought it would be useful to put a blog together to answer all your questions about transporting your tree. In fact, one of our quirky pastimes is keeping an eye out for funny pictures of people transporting Christmas Trees – some of our favourites have been a cyclist carrying a Christmas tree on his bike in Amsterdam, kids with tiny trees on their little ride on vehicles and tiny cars swamped by enormous trees on the roof just about managing to see where they are going.
If you've never bought a real tree before (well done for thinking about getting a real tree!) naturally the first thing that you think about is 'How would I get it home?'. Worry not we make it easy for you. Firstly, we wrap the tree in netting which makes it narrow and easier to carry – the netting doesn't damage the branches as it's really soft. Simply cut off the netting when you get home and the branches pop back out again into their wonderful Christmas Tree shape. Once the tree is netted the task all of a sudden looks more manageable.
People sometimes arrive at our farm in 2 cars – 1 for the family and 1 to transport the tree home – this allows you to put the back seats down and have the tree completely inside the car with the boot closed (as long as the tree isn't enormous or the car tiny). Some people borrow the work van which makes the task a doddle as plenty of room in the van for a Christmas tree. But the majority of people come in 1 car and manage to get the tree home with very little hassle.
We have twine on hand or you can bring your own to help secure the tree either in the boot or on the roof of the car. We also have super helpful staff to help you with this daunting task. We're always amazed by how organized people who come to the Killakee Christmas Tree Farm are and have seen people with proper tie down straps and with blankets or sheets so the boot or the roof doesn't get scratched by the process.
Once you get your tree home (having driven down the hill singing Christmas songs no doubt) we recommend you leave the netting on until you have taken the tree through the door into the house to save any mess trying to squash branches in though doors. Then simply cut off the netting and you're all set to get going with decorating.
Check out this blog on Caring for your Christmas Tree with useful tips on keeping your tree fresh for as long as possible.
Share this...