Craft Pop Up Market at Killakee Christmas Tree Farm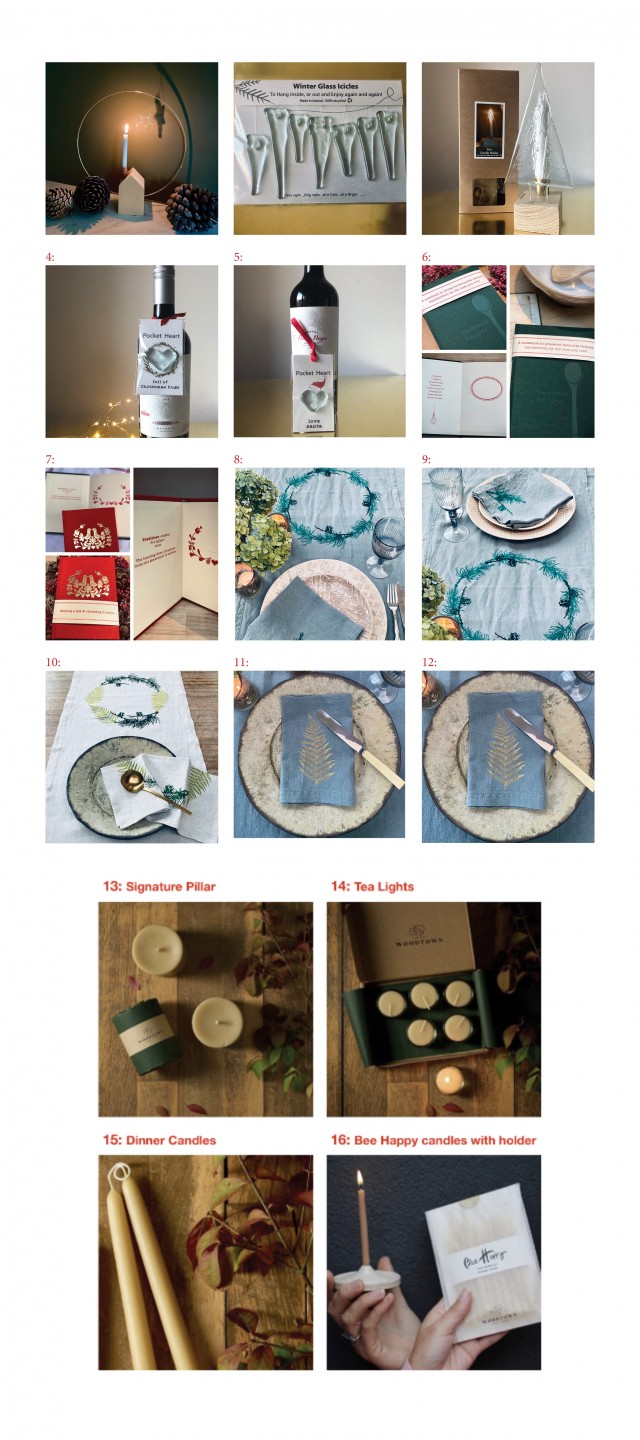 We are delighted to introduce something new at Killakee Christmas Tree Farm for the 2021 season. A pop-up seasonal craft market will take place at the farm on Friday December 3rd from 5-8pm and on Saturday December 11th from 9-5pm. If you have reserved a time slot on these dates you will see the beautiful handmade seasonal crafts on offer from some very talented local women. If your time slot is on a different day don't worry, we can offer pre-ordering on these beautiful crafts so you can collect any of the items listed below from Friday 3rd December if you reserve them at least 48 hours in advance of your visit. To pre-order simply email us at .(JavaScript must be enabled to view this email address) or DM us via Facebook or Instagram with your order details and time slot reservation number and we will have your items ready for collection when you visit. See full details on products and pricing below.
D8 Makers
A carefully curated collection of three Dublin makers, Rachel, Chloe and Eileen, who came together and put their creative experiences to use.
Rachel - Printmaker
Hand printed linens and cards all designed and hand printed by Rachel using traditional techniques on paper and fabric with woodblocks and Lino.
Eileen - A designer of decorative objects
Eileen is a designer who makes hand printed cards and decorative seasonal gifts. She has recently worked with an old Dublin book binders that has been binding books for over a hundred years.
Chloe - Glass & Graphic designer
Chloe designs and makes all of her handmade glass pieces in her studio in Dublin 8, using 100% recycled glass.
Details on the products shown above including pricing:
1. Stars in the sky house - €30
Follow the star… little wooden house with fused glass star, height 30cm approx.
2. Pack of 7 icicles - €20
3. Christmas tree candle holder - €20
Christmas tree candle holder. A lovely present with Gift box and candle included. Height 23cm approx.
4. 3 Trees of Christmas tea light holder - €45
Three Christmas trees tea light holder on a dark green base. Creates a beautiful glow for a table/mantle piece centre piece. Height 30cm approx.
5. Pocket hearts for Bottle necks: Hugs & Santa - €5
Pocket hearts to give with a bottle of something nice! Choose from 2 designs Hugs or Santa.
6. A5 green heirloom recipe book - €15
A beautiful A5 notebook hand bound by @duffybookbinders to preserve favourite recipes, handwritten by the ones you love. Size A5
7. A6 Christmas traditions Notebook - €10
A beautiful A6 notebook hand bound by @duffybookbinders for making a list & checking it twice…..keeping those Christmas traditions alive. Size A6
8. Teal Blue Table Runner - €45
100% teal blue linen table runner. Pinecone wreath design. 42 x 200cm
9. Teal Blue Napkins – set of 2 - €18
100% teal blue linen set of 2 napkins. Pinecone design. 40 x 40cm.
10. Irish Linen Table Runner - €65
100% Irish Linen hand printed fern wreath table runner. 45x200cm.
11. Teal Blue Fern Design Table Runner - €45
100% linen teal blue fern design table runner 42x200cm.
12. Irish Linen Napkins – set of 2 - €18
Linen fern napkins set of 2.
Woodtown
Woodtown candles are hand-made by Rachel and Summer located very near to our Christmas Tree Farm. They collect wax nationwide to clean and make candles with. Beeswax candles are unlike any other: they actually purify the air as you burn them, the light emitted is the same spectrum as pure sunlight and we personally find that they offer a quiet buzz of positivity when burning nearby.
13. Signature Beeswax Pillar - €34
This is a solid pillar of Irish beeswax with 38+ hours of pure golden light.
14. Tea Lights - €17
6 tea lights in glass holders. Each candle burns clean for about 6 hours.
15. Dinner Candles - €15 (for a pair) or €40 (for 3 pairs)
Two dinner candles hand-dipped from 100% pure Irish beeswax that burn for approximately 7-8 hours. Beeswax dinner candles will elevate any dinner candle or taper holder decorating your home this winter. They emit a bold, bright, golden glow unlike any other candle.
16. Bee Happy candles with holder - €30
A hand-turned ceramic holder made especially for Woodtown Bee Happy candles by Irish ceramicist Naomi Good. This set makes a lovely gift as it's a beautiful way to decorate your space with natural light and unique hand-made goods.
How to order:
To pre-order any of these beautiful crafts simply email us at .(JavaScript must be enabled to view this email address) or DM us via Facebook or Instagram with your order details and time slot reservation number and we will have your items ready for collection when you visit. Pre-orders are available for collection from Friday 3rd December if you reserve them at least 48 hours in advance of your visit. Note you must have a time slot booking to visit the farm.
Share this...